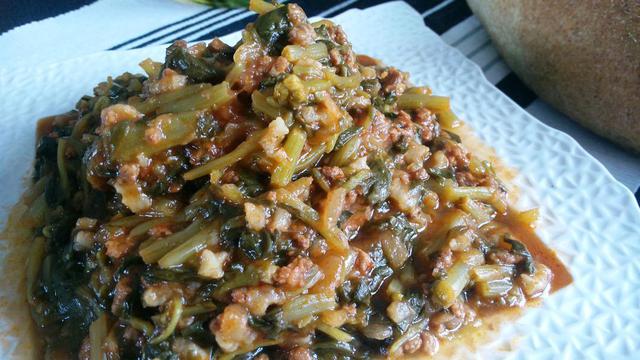 Are you constantly struggling to get your family, especially your kids, to eat more vegetables? Especially dark green leafies, like spinach? If it seems impossible, this recipe for Turkish purslane and ground beef stew might be the answer.
Purslane is a plant that's native to parts of Europe and the Middle East. That's why it's a common ingredient in many cuisines from these regions. Because of its high nutritional value, purslane is grown all over the world. When it cooks up,it looks similar to spinach, but in place of the bitterness, it has a gentle, tangy flavor.
Purslane is especially prized in Turkish cuisine. Turkish mothers have been serving their kids purlane and ground beef stew for ages. There's a good reason. It's not only an easy stovetop dish that's cooked all in one pot, it's also delicious and nutritious. My whole family loves it. You don't need to serve much extra along with it. A dolop of thick, plain yogurt on top and some crusty bread will do.
Try this recipe for Turkish purslane and ground beef stew and get them to eat their dark green leafies.
Photo © Elizabeth Taviloglu, 2014