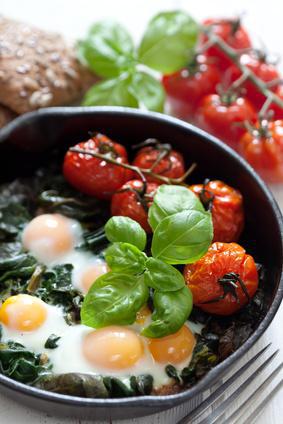 If you like the idea of spinach and eggs for breakfast or lunch, or you're a low carb enthusiast, you should try this recipe for Turkish-style spinach and eggs. It's much lighter than classic eggs Florentine, and packs much more flavor.
This one of my favorite recipes for busy days, or for days when I don't have meat in the freezer. It's also a great way to get your family to enjoy spinach!
Fresh spinach and onion are sauteed in butter until tender, then the juices are thickened with a little flour and milk to make them creamy. Eggs are cracked on top and allowed to cook through.
Does this sound good to you so far?
To top things off, put a big a dolop of plain or garlic yogurt on top of each serving and you have a real Turkish treat.
I also like this dish when I'm watching my weight. It's very low in carbohydrates and high in protein and nutrients. Since you replace heavy Hollandaise sauce with plain yogurt, you can also save a lot of fat.
So if you're wondering what to do next with fresh spinach, or looking for ways to spice up your low carb menu, try this easy Turkish recipe for sauteed spinach and eggs. It may just become a regular in your kitchen.
Photo © yuliakotina - Fotolia.com