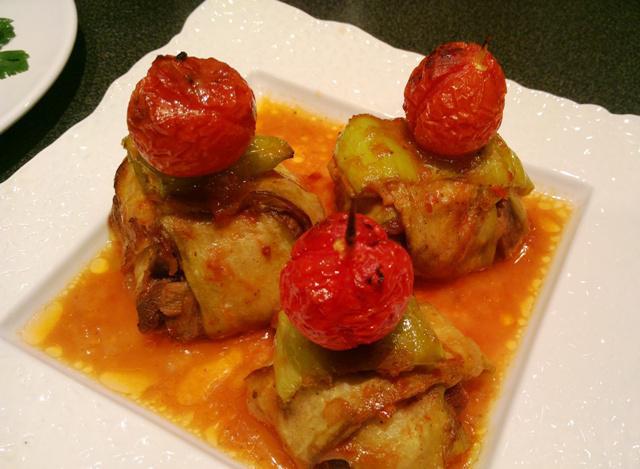 Are you looking for a main course lamb dish that tastes as great as it looks? Look no further than Turkey's beloved 'islim kebabi' (EES'-LEEM' keh-BOB'-uh).
In Turkish cuisine, lamb is one of the most popular meats and eggplant is one of the most beloved fruits. Put them both together and you have pure magic.
'İslim kebabi' is one of my favorite dishes for company. Just imagine, chunks of succulent, seasoned lamb wrapped with tender strips of cooked eggplant to make perfect little packets. Then each one is topped with peppers and tomatoes secured with a toothpick, surrounded by a meaty, tomato-y sauce and baked to perfection. The result is a main course that tastes just as heavenly as it looks.
A platter of 'islim kebabi' looks spectacular on the table. Put two or three 'kebabs' on each plate and serve them with any kind of rice pilaf, like classic rice pilaf with orzo. This will help soak up the delicious sauce.
If you're not a lamb lover, don't despair! You can substitute the lamb with a tender cut of beef. If you prefer white meat, substite the red meat with chunks of boneless chicken or turkey. However you prepare it, this recipe for 'islim kebabi' is sure to make a splash at your next get-together.
Photo © Elizabeth Taviloglu, 2014