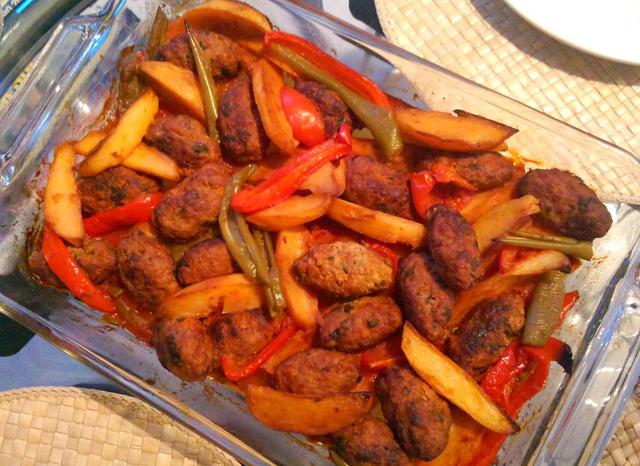 It's sald there is a meatball dish to suite everyone in Turkish cuisine. This is one of my favorites.
If you too love the conveniece of casseroles and like to cook ahead of time, this meatball recipe from the Aegean city of Izmir is perfect for you. 'Izmir Koftesi' (is-MEER KUF'-tay-see), or Izmir meatballs, combines delicious meatballs, potatoes and vegetables like tomatoes and peppers to make a tender, delicious meal all in one.
What makes this recipe one of my favorites? The meatballs and potatoes are double-cooked, meaning first they're fried and then baked, making them extra tender and flavorful. You can prepare the casserole the day or two before and the flavors will be even better. Simply reheat the casserole the next day and you're good to go.
They key is to use fresh, ripe tomatoes which are best in the spring and summer. During the winter you can use canned tomato puree. It works just as well. Serve your 'Izmir meatballs' with crusty bread to soak up the juices. You won't need anything else to have a great meal, Turkish-style.
Photo © Elizabeth Taviloglu, 2014