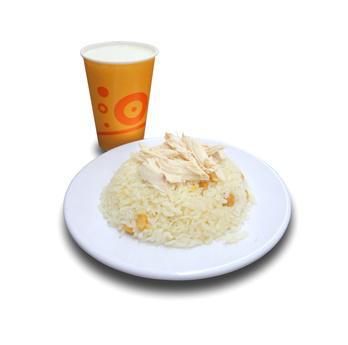 Turkish cuisine is famous for it's delectable street foods like 'turning kebab,' roasted chestnuts, and stuffed baked potatoes called 'kumpir,' to name a few. Did you know that there is also a street food that's delicious and nutritious enough to make and home and serve to the whole family?
Turkish rice pilaf with chicken and chick peas, called 'nohutlu pilavı' (no-HOOT'-loo PEE'-lahv-uh) is sold on street corners during lunch hour in most working neighborhoods. It's a cheap, nutritious alternative to workplace cafeterias for people on a budget and on the go.
It may seem bland to you at first. But believe it or not, it's so delicious and comforting that I like to make it for my family. It's easy to prepare with inexpensive, easy-to-find ingredients.
This dish is nothing fancy, just simple good, hot food. Serve it with a fresh salad and a glass of ice cold Turkish yogurt drink called 'ayran' (ai-RAHN') and you have a complete meal that's Turkish through and through.
Try Turkish rice pilaf with chicken and chick peas the next time you and your family crave simple, delicious comfort food.
Photo © Arsel - Fotolia.com